The South Island of New Zealand is renowned for its natural beauty, an untamed paradise dominated by a rugged and unspoilt landscape. No need to forgo the comforts of civilisation though – South Islanders like to balance the wilderness of their surroundings with the best of food, wine and accommodation. Whatever your clients' budget, there is a multitude of accommodation options scattered against the wild backdrop.
Outdoor adventure aficionados will find themselves well served in the South Island. In the north the theme is maritime. Sheltered coves invite exploration by kayak and coastal forest is ideal for a scenic walk. In the northeast, Blenheim* is the centre of a wine-producing region, while Kaikoura* (please note, due to earthquakes routes north and south of Kaikoura have changed, see note for more information) is a base for wildlife encounters. Christchurch, where modern culture blends with historic atmosphere, is the South Island's largest city.
Further south, the picture-postcard Mackenzie region is dominated by mountains and lakes. In Queenstown and Wanaka, visitors can dine in a world-class restaurant amidst a panorama of mountains. In winter, the ski areas offer fantastic skiing. Dunedin, the other major city of the South Island, is set on a harbour. This is a city with strong roots in the past: historic buildings, including New Zealand's only castle, are a must-see.
Encourage your clients to take a trip to Stewart Island, the smallest of New Zealand's three major islands, where they can explore untouched wilderness and see the abundance of wildlife. To truly experience the untamed beauty of nature, any visit must include the West Coast. From Karamea in the north through to Fiordland in South Westland, in this extraordinary region your clients will be spellbound by the lush rainforests and rugged scenery.
South Island Explorer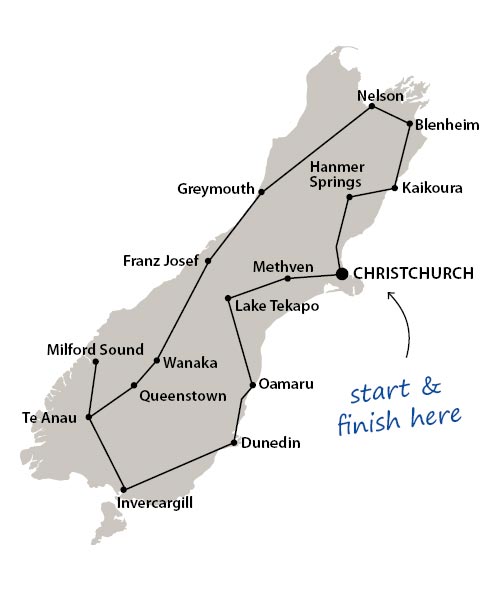 Take your time and experience all of the magical scenery and unforgettable experiences that New Zealand's South Island has to offer.
Minimum Length: Three weeks
Once you've explored the innovative rebuild, cafés and boutiques of Christchurch, head south along Inland Scenic Route 72 to experience the essence of the Canterbury Plains on your way to Methven, a skiing Mecca in winter! Journey inland, through the gourmet haven of Geraldine, to Lake Tekapo, and enjoy more outdoor activities around a stunning turquoise lake. Take to the air for a bird's eye view of Mount Cook, New Zealand's highest peak, before heading via the Waitaki Valley to Oamaru, famous for its architecture and penguins.
More wildlife encounters are on offer further south on the Otago Peninsula – albatrosses, seals and dolphins are just some of the natives. The region's main city, Dunedin, offers very different experiences; museums, historic buildings and cutting-edge fashion. From Dunedin, continue southwest through trout-fishing country to Invercargill. Departing from nearby Bluff are ferries to Stewart Island. Continue north to Te Anau, base for exploring mystical Milford Sound with its waterfalls, wildlife and rainforests.
After soaking up the tranquillity of Fiordland it's time for adventure. Drive through rugged mountains and along the shores of Lake Wakatipu to Queenstown, centre of a renowned outdoor playground with activities ranging from bungy jumping and 4WD adventures to horse riding. Next, head to the lakeside resort of Wanaka; a little more laid-back than Queenstown, Wanaka offers a blend of outdoor activities on the lake or in the mountains of nearby Mount Aspiring National Park.
Travel through spectacular Haast Pass to the West Coast, and Fox and Franz Josef Glaciers; rivers of ice nestled amidst the rainforest! After exploring the glaciers, enjoy the scenic drive north to Greymouth, where you can glimpse gold mining history or take a forest walk. Further north, turn inland and drive east through rainforest-clad valleys to artsy Nelson. Explore the local wine culture and a myriad of art and craft studios; you may choose to detour to the beaches of Abel Tasman and Golden Bay.
Northeast of Nelson, along the Treasured Pathway, is Havelock, launching point for charter boat cruises in the Marlborough Sounds. From Havelock, travel south to Blenheim, the heart of Marlborough wine country.
On the coast south of Marlborough is the marine wildlife Mecca of Kaikoura*. Pause here to encounter the numerous local whales, seals, dolphins and albatrosses before heading south. Take the turnoff to Hanmer Springs to soak in the thermal hot pools and visit the wineries of the Waipara Valley before arriving back in Christchurch City.
Highlights
Wintertime skiing
Mackenzie Country lakes
Mount Cook
Wildlife encounters
Historic architecture
Milford Sound
Outdoor adventures
Glaciers
National parks
Marlborough wine country
Southern Splendour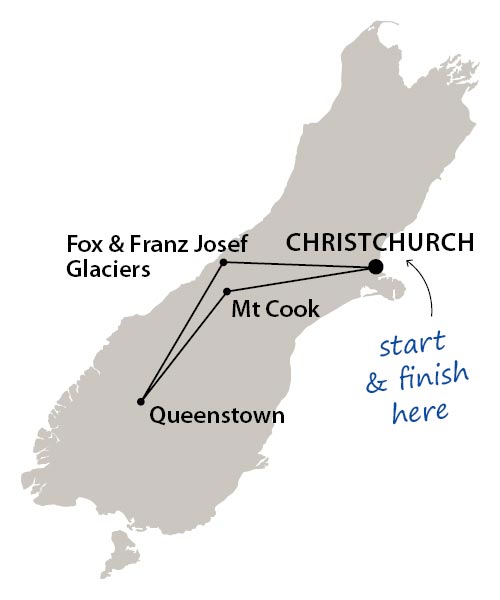 Over the course of just a few days, your clients will experience places that will be seared on their memories for life.
Minimum Length: One week
This quick encounter with the South Island's highlights will introduce visitors to some of the best landscapes New Zealand has to offer. South Island Itineraries – Southern Splendour
Highlights
Mount Cook
Adventure activities
Glaciers
Wildlife & Wellbeing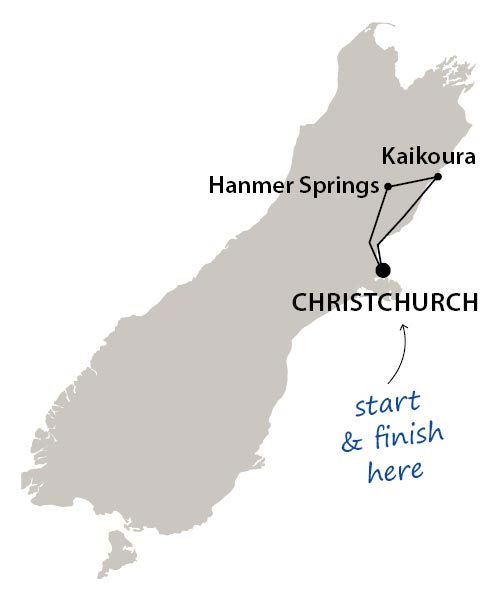 An ultra-quick trip that puts visitors on the fast track to relaxation with fine wine and a geothermal spa.
Minimum Length: Four days
Combining glorious maritime landscapes, rich culture and history, and an abundance of outdoor activities, this is a great introduction to Aotearoa.
Highlights
Wildlife encounters
Thermal spa
Wine tasting
South Island Distance Chart
At a Glance
Christchurch to Picton* 479 km; 6 hr, 20 min
Christchurch to Mt Cook 331 km; 4 hr, 45 min
Christchurch to Queenstown 486 km; 6 hr, 55 min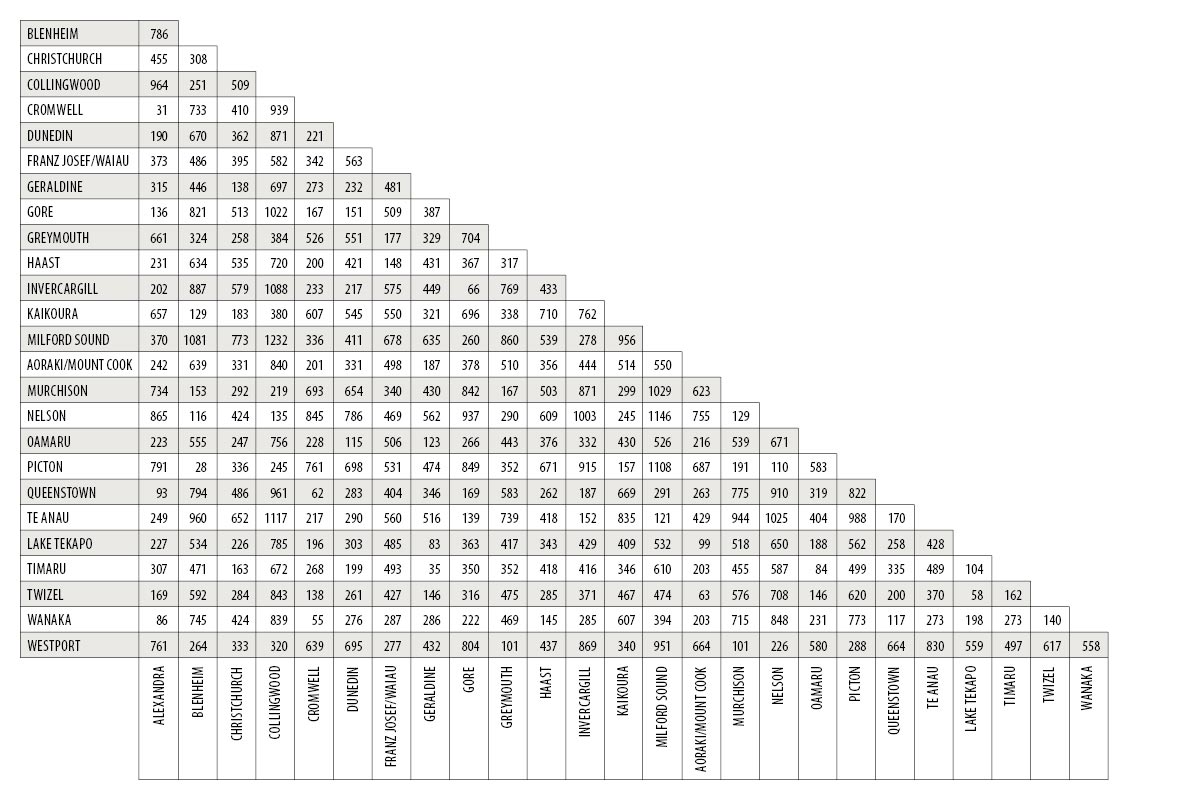 Themed Highways
The Treasured Pathway
Introducing visitors to Marlborough and Nelson in the northern South Island, the Treasured Pathway covers more than 260 kilometres from Picton, through the peaceful coves of the Marlborough Sounds, the bustling cultural community of Nelson and the sandy beaches of Golden Bay, to Farewell Spit. A guidebook is available to help visitors get the most out of the region.
Southern Scenic Route
If your clients are interested in exploring New Zealand's wilderness, this touring route is perfect. Beginning in Dunedin, where wildlife such as penguins, seals and albatrosses are easily accessible, through the coastal forests of the Catlins, the southern city of Invercargill, and Te Anau, the gateway to Fiordland National Park, to end in lakeside Queenstown. www.southernscenicroute.co.nz
Great Alpine Highway
The Great Alpine Highway traverses the South Island from Christchurch City to Greymouth on the West Coast. In just a little over 250 kilometres, drivers will encounter a wide variety of landscapes, from wide-open plains to rugged, snow-capped mountains and green rainforest-clad hills. www.newzealand.com/int/trips-and-driving-itineraries/south-island/christchurch-to-greymouth-via-arthurs-pass/
Alpine Pacific Touring Route
Blending eco-adventure and indulgence, this touring route links some of the South Island's most popular visitor destinations – the wildlife of Kaikoura*, the wineries of the Waipara Valley and the thermal resort of Hanmer Springs. www.visithurunui.com
Destinations
Marlborough Sparkling inlets, pristine forest and renowned wineries bathed in abundant sunshine.
Nelson Three national parks, golden beaches and turquoise water make this a natural paradise.
West Coast An untamed coastal paradise bursting with remarkable scenery and rare native wildlife.
Kaikoura* & Hanmer Springs Unforgettable marine life, a picturesque alpine spa resort and vineyard-draped valleys just north of Christchurch.
Christchurch & Canterbury Outdoor adventures in a rugged landscape and the rich heritage of New Zealand's second largest city.
Mount Cook & Mackenzie Astonishing blue lakes and soaring peaks abound in a beautiful alpine and rural landscape dotted with tranquil country towns.
Dunedin & Otago Intriguing history in a quirky university city famous for wildlife encounters and, beyond, a rugged landscape rich with gold mining history and remarkable scenery.
Wanaka Outdoor adventures amidst spectacular alpine scenery on the doorstep of Mount Aspiring National Park.
Queenstown Sparkling resort in an outdoor adventure playground set against the stunning backdrop of a glittering lake and rugged mountains.
Fiordland Astonishing scenery and unforgettable wilderness experiences in a remote and pristine region.
Southland & Stewart Island A remote and beautiful region of rolling hills, rugged coastline and sparkling rivers in the far south.
*Note: Kaikoura is still accessible by the inland road from either north or south, as well as on a limited basis on State Highway 1 from Christchurch and Picton as repairs continue – check with the latest updates from the New Zealand Transport Authority when planning your trip, as travel times have also increased.