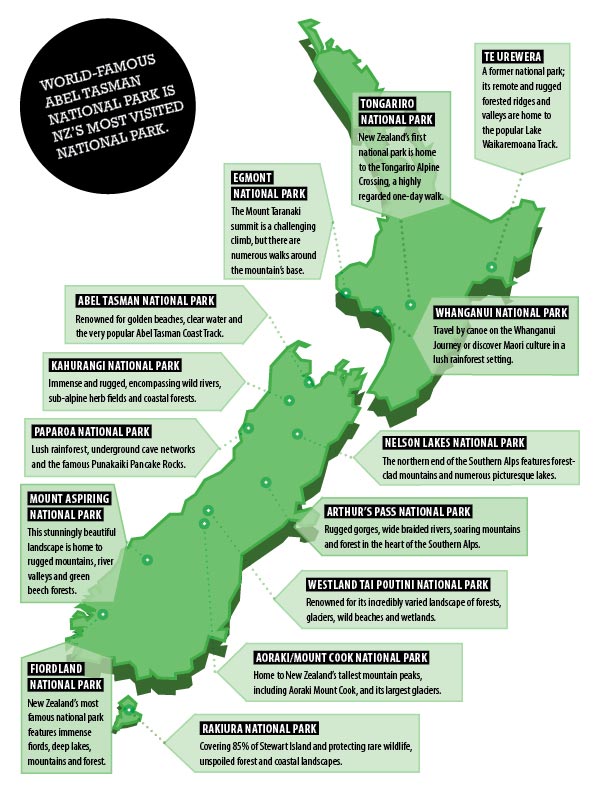 There are 13 national parks and they feature 12,000 kilometres of walking tracks and 1,000 huts for overnight stays. Trails range from 15-minute scenic walks to demanding multi-day hikes, ice or mountain climbs – you need to don a pair of hiking boots to explore some of the most pristine corners of New Zealand. Many of the national parks are recognised not only in New Zealand, but internationally; the North Island's Tongariro National Park, for example, is a World Heritage Area of natural and cultural significance, while in the South Island four national parks – Westland Tai Poutini, Aoraki Mount Cook, Fiordland and Mount Aspiring – combine to form another World Heritage Site, Te Wahipounamu. The numerous regional parks are administered by regional councils and many of them are very close to cities, providing easy access to great outdoor adventures that range from wildlife walks and mountain bike tracks to cultural tours.
Established in 1887, Tongariro National Park was New Zealand's first and the world's fourth national park.
New Zealand National Parks: Tongariro National Park, Egmont National Park, Whanganui National Park, Abel Tasman National Park, Kahurangi National Park, Paparoa National Park, Nelson Lakes National Park, Arthurs Pass National Park, Westland Tai Poutini National Park, Aoraki/Mount Cook National Park, Mount Aspiring National Park, Fiordland National Park, Rakiura National Park
Great Walks
One of the best ways to discover New Zealand's stunning landscapes is by hiking. The best-known trails are the Great Walks. Administered by the Department of Conservation (DOC), these multi-day hiking tracks showcase some of the most magnificent scenery and they are maintained to a high standard. Many require bookings. From the lakeside rainforest paradise of the Lake Waikaremoana Great Walk in the North Island to the sandy coves of the Abel Tasman Coast Track at the tip of the South Island, right down to tranquil Rakiura Track on New Zealand's third largest island, Stewart Island, there are nine Great Walks, each boasting their own unique highlights.
For comprehensive information about New Zealand's national park network, talk to the Department of Conservation. www.doc.govt.nz