The North Island is the gateway to New Zealand for many international visitors. From the northern tip, where swirling seas form an eerie backdrop to Māori legend, to the culture capital of Wellington, this is an island where abundance knows no bounds. Highlights range from amazing natural landscapes to high culture. The central North Island features astounding thermal activity, from geysers to mud pools and hot springs. In the Waitomo district, cave networks provide opportunities for underground adventures. Delve further into legend with an exploration of Māori culture – it is easily accessible to any visitor and Rotorua is a particular highlight for those interested in learning about the Māori people.
No visit to the North Island would be complete without setting foot in the native forests that drape the hills. Sample the bounty of rivers and lakes by fishing for trout. Offshore, swim with dolphins or explore underwater life on a diving expedition. The North Island is blessed with a huge variety of beaches, from golden bays to wild surfing breaks. Great places to enjoy New Zealand's maritime treasures include the subtropical setting of the Bay of Islands and Auckland, the 'City of Sails'.
To discover the latest in contemporary New Zealand culture, begin your adventure in Auckland or Wellington, the North Island's largest cities. Auckland enjoys a unique setting on two harbours that are studded with islands, and features a large number of highly regarded restaurants, cafés and bars. Wellington has a style all its own. Set on a harbour and surrounded by hills, this is where New Zealand's politicians get down to business. It's also a place for unique fashion and art, and the country's cutting-edge national museum.
From one end to the other, the North Island of New Zealand embraces a diversity of natural and cultural features that visitors find simply astonishing.
North Island Explorer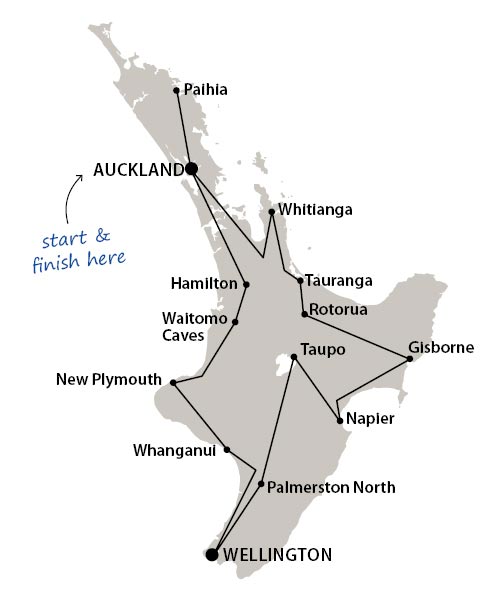 Get ready for the journey of a lifetime – this driving route will introduce you to the very best of the North Island from the subtropical north to the rugged scenery of the south.
Minimum Length: Three weeks
Kick-start your North Island adventure with a scenic drive north from Auckland to Paihia in the Bay of Islands. Discover an island-studded paradise and visit the Waitangi Treaty Grounds. Visit Kerikeri or take a trip to Cape Reinga before heading south. You may make the return journey down the west coast, cruising past ancient Kauri forests. Back in Auckland, recharge the batteries with retail therapy, dining and a harbour cruise, and then travel to Whitianga; enjoy a myriad of water activities and hit the beach at nearby Cathedral Cove and Hot Water Beach. Continue along forest-fringed roads to the coastal settlements of Tauranga and Mount Maunganui.
Next on your itinerary is Rotorua, hot-spot of Māori culture and geothermal activity. After you've had your fill of hangi and hot pools, drive through the Waioeka Gorge to Gisborne. Get up early to watch the sunrise from New Zealand's easternmost town and enjoy the mix of surf and café culture. Further south is Napier, famous for its Art Deco architecture and fine wines.
Back inland, at Taupo, choose from outdoor activities such as trout fishing or visiting the Huka Falls. From here, drive the Desert Road, bordering Tongariro National Park and overlooked by a triad of volcanoes, to a slice of provincial life in Palmerston North, an ideal place to break the journey south.
The next part of your trip takes you east through the Manawatu Gorge to the vineyards of Wairarapa on the way to New Zealand's capital, Wellington. Take a tour of the Parliament Buildings, browse museums and explore the many shops, cafés, restaurants and bars in this cosmopolitan city – stay out late and enjoy the nightlife!
When you finally tear yourself away, head north along the Kapiti Coast to Whanganui and explore the river by canoe. Travel northwest through farming country to Taranaki. At Hawera, you can turn off the main highway and follow Taranaki's famous 'Surf Highway 45'. In New Plymouth, under the watchful eye of Mount Taranaki, are cultural attractions and outdoor activities, complemented by good shopping and dining.
Next, traverse forest-clad hills on the way to the Waitomo Caves. Here, take your pick of caving experiences and then drive north to Hamilton for a multitude of restaurants, shops and garden strolls. The final leg of your tour is an easy drive north back to the gateway city of Auckland.
Highlights
Waitangi Treaty Grounds
Gold-mining history
Cathedral Cove and Hot Water Beach
Māori culture
White Island
Art Deco Napier
Lake Taupo and Huka Falls
Tongariro National Park
Wairarapa wine country
Whanganui River
Mount Taranaki
Waitomo Caves
Natural Wonderland
New Zealand has a landscape that's out of this world and this journey shows you around some of the most unique sights.
Minimum Length: One week
From an enormous lake to a triad of volcanoes on a barren plateau, from bubbling mud pools and geysers to an intricate limestone cave network, you'll be reaching for superlatives every step of the way.
Highlights
Geothermal activity
Lake Taupo
Caving adventures
Far North
The subtropical far north of New Zealand is easily accessible from Auckland, making it a good place to explore on a short visit.
Minimum Length: Four days
Combining glorious maritime landscapes, rich culture and history, and an abundance of outdoor activities, this is a great introduction to Aotearoa.
Highlights
Bay of Islands
Ninety Mile Beach
Cape Reinga
North Island Distance Chart
At a Glance
Auckland to Paihia 236 km; 3 hr, 20 min
Auckland to Rotorua 234 km; 3 hr, 20 min
Auckland to Wellington 658 km; 9 hr, 25 min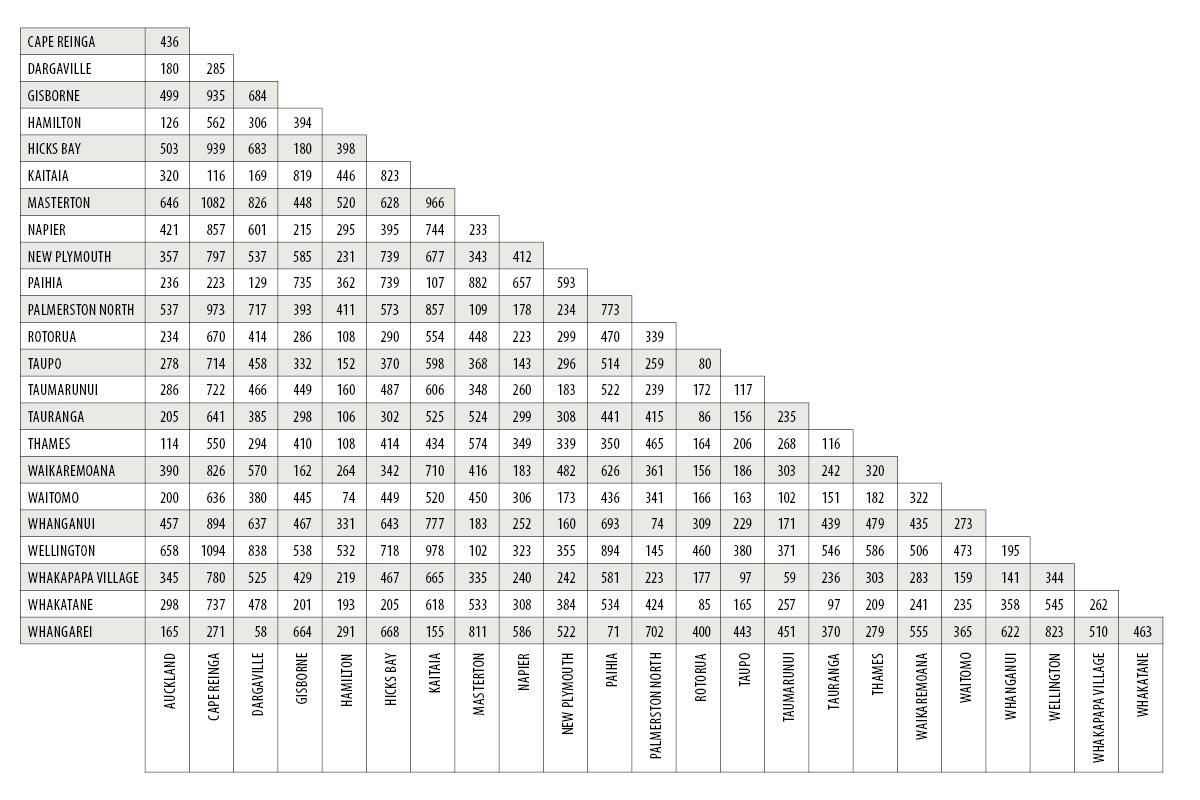 Themed Highways
Thermal Explorer Highway
For a journey into the mystical heartland of New Zealand, resonant with Māori culture and geothermal activity, take to the road on the Thermal Explorer Highway. From its beginning in Auckland, this touring route visits some of the nation's most famous destinations, from the geothermal areas of Lake Taupo, Ruapehu and Rotorua, to the eerie underground world of the Waitomo Caves. (This itinerary may be combined with the Pacific Coast Highway for those with more time to explore.) www.explorecentralnorthislandnz.com
Pacific Coast Highway
If you're looking to sample New Zealand's coast and culture, the Pacific Coast Highway is a great option. Beginning in Auckland and following the North Island's spectacular east coast, you'll discover wonderful beaches and craft galleries in The Coromandel, surf culture and forest walks in the Bay of Plenty, and wineries and heritage in Eastland and Hawke's Bay. www.explorecentralnorthislandnz.com
The Twin Coast Discovery Highway
Beginning in Auckland, this touring route takes visitors on a circular route through New Zealand's subtropical north. Enjoy coastal scenery and a great range of water adventures as you visit Whangarei, the Bay of Islands, Kaitaia, Cape Reinga and Ninety Mile Beach. The Twin Coast Discovery Highway forms the basis for a series of themed trails to suit your interests, from heritage and wine trails, to golf and art trails. www.northlandnz.com/visit/journeys/twin-coast-discovery-highway
Destinations
Northland Birthplace of a nation, blessed with pristine beaches and forests in a subtropical climate.
Auckland New Zealand's main international gateway; the colourful and cosmopolitan 'City of Sails'.
The Coromandel A rustic and unspoilt landscape boasting rich heritage, rainforest and a long coastline.
Bay of Plenty Beaches bathed in sunshine, vibrant towns and outdoor adventures on land and sea.
Rotorua A fascinating blend of Māori and European cultures in a remarkable geothermal area.
Gisborne & Eastland An authentic taste of coastal New Zealand life in the first part of the world to see the sun.
Hawke's Bay Art Deco architecture and fine wine are the perfect blend in this pretty coastal region.
Taupo & Ruapehu Lake Taupo is the epicentre of a region bursting with adventure and natural attractions.
Waikato & Waitomo Tranquil rolling hills and lush gardens complement unforgettable caving adventures.
Taranaki Explore dramatic surf coastline and an iconic mountain in a region steeped in fascinating history.
Whanganui & Manawatu Thriving contemporary culture and fascinating history complemented by rural New Zealand charm.
Wellington Sophisticated and stylish, offering cultural experiences in a beautiful harbour setting.
Wairarapa A quintessentially New Zealand blend of rustic charm, rugged scenery and wineries.