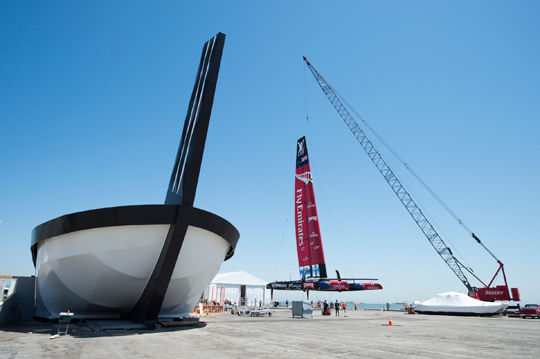 Remarkable sailing craft will be a hallmark of the 34th America's Cup, but it won't only be the futuristic wing-sail AC72s turning heads in San Francisco – a traditional Māori waka / canoe from New Zealand also has a prominent role in the event.
The eye-catching 'Waka Māori' is a canoe-shaped pavilion that forms the centrepiece of the New Zealand base on Pier 32, and will be used to host major sponsors and showcase Kiwi business and tourism. For three months, Waka Māori will sit on the Embarcadero just below San Francisco's busy Oakland Bridge, which is crossed by about 300,000 people a day.
The icon of the traditional Māori watercraft represented by the 70m-long structure is seen as a fitting venue to represent New Zealand in San Francisco. "The waka is a symbol of New Zealand as a nation and encapsulates Kiwi's long history as ocean voyagers, navigators, and innovators. A waka is meant for travel, and so we always knew it would make its way around the world," says New Zealand Māori Affairs Minister, Dr. Pita Sharples.
Waka Māori was built for Rugby World Cup 2011, and drew huge crowds to Auckland's waterfront during the tournament in New Zealand. It is owned by the Auckland iwi / Māori tribe Ngati Whatua o Orakei, who gave the blessing for the structure to be used in San Francisco. The striking venue will be home for events organised by Emirates Team New Zealand (ETNZ), Auckland Tourism, Events and Economic Development (ATEED) and New Zealand Trade and Enterprise (NZTE). The New Zealand Government and ETNZ have an agreement that gives Kiwi businesses exclusive access to racing and the Kiwi team's San Francisco base.
The high profile America's Cup event is seen as a good opportunity for New Zealand companies to showcase their expertise on the international stage, and a full business events programme has been developed alongside the sailing event. Both San Francisco and nearby Silicon Valley are important for Kiwi businesses wanting to expand into global technology markets. The United States is New Zealand's third biggest trading partner, and the export of goods and services to the US continues to grow.
New Zealand innovation will be evident during the Cup, with components for three of the four racing yachts designed and built in New Zealand; Kiwi-made super-yachts berthed at the marina; an official America's Cup smartphone app made by Animation Research from Dunedin; and New Zealand food and wine featuring on the menus of San Francisco restaurants.
New Zealand is also a popular destination with Californians, and travellers from the Golden State make up 23% of all US visitors to New Zealand. In general, more Americans are choosing to holiday in New Zealand with arrivals growing 9.8% in the past year.
Awareness of New Zealand as Middle-earth was boosted again last year with the release of the first movie in The Hobbit trilogy last year, and marketing the reality of New Zealand's epic landscapes depicted in the movies will continue throughout the next two films.