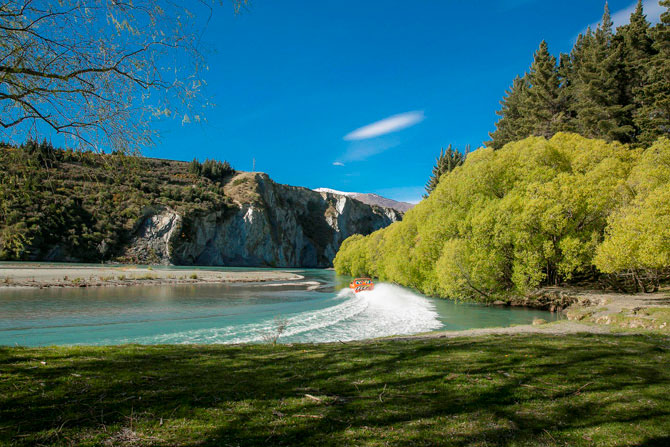 An iconic piece of Queenstown real estate is for sale with Kawarau River Station, one of Queenstown's most significant freehold land blocks, placed on the open market for only the second time in its history. The rugged high country station, which is located at the foot of The Remarkables mountain range on the Kawarau River, is highly sought-after due to its position, natural attributes, 14km of riverfront land and its closeness to Queenstown, and has attracted considerable interest after just a week on the market.
For sale by enquiry with local realtor Bas Smith of Ray White Queenstown, the sale of the 4500 acre station is being presented as a rare opportunity for the right buyer. "The West end of the property is located across the river from the Remarkables Park town centre and the farm encompasses the majority of the northern slopes of The Remarkables," said Mr Smith. "It's entirely north facing, ensuring year round solar advantage. This, accompanied by the huge water resource, makes for a very attractive proposition. It really is one of the last blocks of land of this nature available so close to Queenstown," said Mr Smith.
"Complemented by some of the most spectacular natural features to be found anywhere in the world, it is a rare find. This is a superb opportunity for someone to own an incredibly private, trophy property," he said.
Originally used in the Gold Rush days as the main access route to Queenstown, the station has legal vehicle access from both ends and a well formed internal road, which allows the owner a drive of 15 minutes to Remarkables Park from the centre of the station. Absolute riverfront properties are extremely rarely available in the region, and this property affords the potential owner an idyllic Kiwi rural lifestyle from swimming, fishing and jet boating in the river to farming, sustainable farming and hunting for wild game in the high country.
The station is currently a profitable working farm that contains 1,826 hectares of fertile, well-fenced flats and river terraces grazing cattle and a red deer stud. It currently has a three bedroom farm manager's house near the Gibbston Valley end of the property, a woolshed, deer and cattle yards and hay shed. The station's colourful history dates back to the early 1900s, when it was subdivided from the larger Kawarau Station in 1910.
"There simply are no other properties like this in Queenstown now or in the future. All major land parcels near the boundary to Queenstown are already earmarked for development, making this a rare opportunity to own a slice of New Zealand paradise," said Mr Smith.